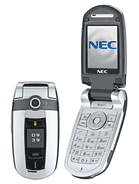 b
does anyone know if this only supports bluetooth headset connection, or full data transfer bluetooth?
p
I have this phone and its great (E540). MP3 ringtones, bluetooth data transfer, good camera and easy for PC download
P
The phone looks great, my friend and I want to buy one. How much does it cost pls? Would love to have one.

?
This handset support DoJa feature, and you can make DoJa application by your self!

You can learn how to make application at
http://www.doja-developer.net/

?
if nec's phones are anything like some of there other products eg packard bell computers. i think ill give this a miss
F
men i love this phone it great everthing about it its execelent... i gat one 4 my self and my Girl
A
This phone is superb i want to buy this phone will any tell me where i can buy it?
G
I currently own a 410i and I am very satisfied. The 411 covers some handicaps such as bluetooth, 20 (instead of 10)dialed/received/missed calls.. Hope the battery and talk/standby time are as good as in the 410. Pitty you dont indicate how many mA
v
Very trendy, nice inside & outside layout, a mp3 ringtone will be perfect!
u
GREAT SPEC! but every1 will know that the phone will be heavy or something is going to be bad about it.

Probably the colour 65k? yuk
J
Finally something good from NEC..
I hope this phone will come to my homecountry Sweden...
Total of 555 user reviews and opinions for NEC e540/N411i.