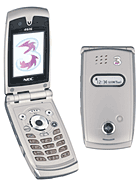 A
this looks as though its gonna be a great phone and going by the enquiries an even better seller!! but please we dont know the price or when its coming so give us a break!!
?
I hope this phone can be bought in Europe

?
In north Italy it's already on sale for about 645,00 Euro. I would wait until Christmas offers, surely the price would slim down a bit...
?
SE Z1010 has alot more standby time, as well...
?
(Standby times) - Talk time: 110 minutes; Video Call time: 72 minutes; Stdby: 120 hours; Battery: Li-Ion 780 mAh. (Video calls): to webcams or videomobiles in QCIF format, 176x144 pixels. External display is monochrome (not 4096) at 30x120 pixels. It also has a built-in handsfree (obviously) that was not specified here.
S
I was told by a 3 Rep. should be here by end of Nov. if not before. I here some critisms, but the fact is there be nothing better than this on 3 until well into the New Year !!!
M
please send me information and details on the e616.
M
Share your opinion about NEC e616
Gud
n
the sony ericsson z1010 seems like it'll be a lot better than this phone. its smaller and lighter as well.
t
looks good but keep getting people asking when they are due out how annoying!!!!
O
If you compare the battery life on this phone with the original phone (606), it is EVEN WORSE. How is it possible for NEC to manufacture a battery with even SH**ER life?!?!? As one of the original 3 customers, I have been waiting for this phone for months, mainly for the battery life improvement, and have been promised by 3 that the battery life "will be at least twice as long" Please tell me this is a typing error!!!!
K
Can I know what is the price?
A
heard a lot in shops about it, but i will be buggered if i can find any detail on this phone or pics or websites.. nec thenselves don't even mention it. any info, please let me know as i would like 2 asap on the 'three' network in the Uk
v
y izzit so BIG in size?? hmmm...
Total of 714 user reviews and opinions for NEC e616.
ADVERTISEMENTS