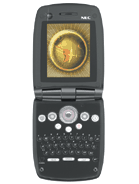 f
thankfully this phone has been discontinued by three. finally they have seen the light!!!
N
This is a terrible phone. It is slow, it is enormous, it throws up errors, it's the size of a PDA but does nothing a normal phone doesn't do. I loved it for a week and now I am longing for a SMALL PHONE that I can put in my POCKET! Steer clear!
B
i like big phones, harder to loose
the qwerty keyboard is wikid handy.
nice design

D
it is me or do n.e.c make really big phones ?! u wud need a suitcase 2 carry them! www.smallphones.com
Total of 105 user reviews and opinions for NEC e808.