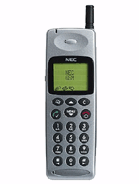 m
this was my first digital mobile. on vodafone uk. it was quite good call quality. the phone lets face it was a brick. but hey they all were then. but good build quality.
?
This was my My Mother's first phone - (RIP)
I remember how shatterproof this phone was - it fell down so many time yet it lived for many many years!!! tell you one thing - the battery power is AMAZING!!

you could take it on holiday for a month and have no problem seeking a charger!! ha ha!!
M
This was my first mobile phone back in 1997 when I was 18. I must say that it's an awesome phone and if I can find one that's for sale right now I'll get one!
M
Hi, i'd juz like to say that it was my first mobilephone(got it in 1997 & btw, in Malaysia it's known as Primero Gio). I hv to say that it's the bomb! battery lasts long, loud enough speaker for ringtones and large screen..they dont make phones as good as these anymore
Total of 14 user reviews and opinions for NEC G9D+.