NEC may not be among the top cellphone manufacturers, but that's because its phones and tablets are sold exclusively in Japan. Soon this is likely to change as it seems NEC is preparing to showcase at least three devices at the MWC 2012 in Barcelona.
The info on those three is still scarce even the names are unknown (unless someone reads Japanese). As the insignias suggest all three of them will be part of the MEDIAS lineup.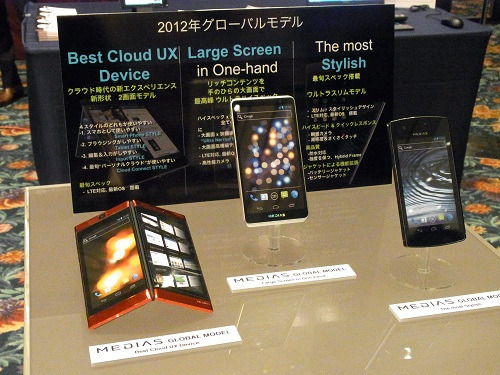 The first one is a Sony Tablet P lookalike and is advertised as the "Best Cloud Device". The next one is "Large Screen in One-hand" and the last phone is "The Most Stylish". The latter is far from stylish, but we'll spare our comments until we get our hands on it.
All three NEC smartphones are LTE-capable and run on Android 4.0 Ice Cream Sandwich. They were presented in a press conference in Japan, but will be showcased at the MWC 2012 in Barcelona. More details are coming for sure next week.
l
nokia has no brainier in design like samsung
S
The one in the middle and the one on the left look awesome! If the price is right I might get the middle one because I love the looks (apart from the logo). Best design imho.
D
The one in the middle is the one I'd hope to get my hands on this year.
ADVERTISEMENTS