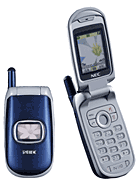 .
Why do nec keep making these crappy phones? they should just quit I reckon.
s
Well, this one really isn't a piece of technology to be proud of, but it's cheap and will do for an average user who just wants to have a flip phone.
No tri-band is a big NO though. It's quite small, which is rare for NEC.
?
no 256K color screen and only a monochrome external screen and only WAP 1.2.1 (why not 2.0 ?). shockin NEC !!!! shockin !!!! 3 is a shite service too.
>:( >:( >:( >:( >:( >:( >:( >:( >:( >:(
Total of 7 user reviews and opinions for NEC N110.