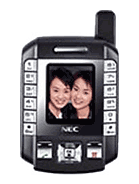 a
I bought this phone in Beijing, and need an English language manual. Mailed NEC, haven't heard back. Any ideas? Sites? PDF's? Help!!
x
Verizon is a cdma provider, this is GSMarena. So naturally the phones are going to be gsm. Now some have cdma counterparts, which ones I don't know, but as far as this phone is concerned it's on gsm, and it uses 900mhz and 1800mhz. Here in the states we use 850mhz and 1900mhz, so no it won't work in the US and it can't work on verizon at all.
e
would any of these nec phones, be used in the states..or with a verizon wireless provider. any help will be apprecaited
n
Nec phones are outstanding but i dont see a areason why they dont have infered or bluethooth
d
Nec phones are no doubt good phones, but why is it that they have no infra red port.
Total of 51 user reviews and opinions for NEC N200.