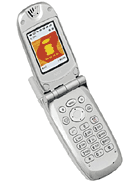 T
Hi, I like this phone very much but I have to leave to the U.S, so can you reconstruction to GSM 1900 for me or give me idea.
thank you
r
hi i'm richard from pantech.korea
i'm working for mobile communocation compaby in korea
I would like to know about battery performance of N21i
because this site just indicates stand-by,and talk time so i need more imfprmation about mAh(EX: 720mAh)
i hope to see your quick resply!!
thanks alot!!
R
Zeer leuk speelgoedje ( toy for boys ), maar ja, wat denk je als je een draagbare computer op zak hebt.

Let op!!!: als je gebruik maakt van de i-mode site, sluit dan wel je telefoon aan op je oplader, daar dit erg veel kracht vreet van je batterijen, en ja ,als je dan bezig bent, en je accu is leeg, dan is dit gewoon domme pech.


B
I've tried this AMAZING phone at CeBit this year.It's a bit big if u compare it with nokia 8210 or alcatel 511 but it's a I-MODE phone!!This means collor lcd display,picture of the guy that calls u,etc...and internet ready.It sells in Germany with 250 euro plus 2 years subscription.And the ones that never triedthis phone shut up!Go and try one and then let me see ya if u say thick on..bad...or whatever!The size it's just like Motorola startack,very well built,a bit slow(bit imagine the technology inside!) ,comfortable keypad,very reliable and ...just amazing:)
s
MY first phone was a N.E.C. and it was the DOGS doo dars and ahead of its time ! 10 years ago ! n.e.c.9a ! i have since become a NOKIA clone ! but im interested in again a N.E.C can you send me data / ifo: ? etc: on all your new and newish N.E.C models
What im looking for is one that def: has a good phone / add: book ( my nokia had only 100 and bumped it up to 200 but ive now 199 in already !! arrgh ! i need an alrm ! / date / time etc: and also it defo: needs to b able to text and receive text PICS: / graphics !! please can you help ! ? p.s. the more the gadgets too the better ! cheers sandy man holt u.k.m.t.a

Thai-Boxing assoc: owner www.thaiboxing.co.uk
Total of 151 user reviews and opinions for NEC N21i.