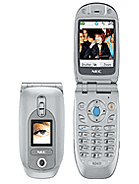 I
This phone is 320 euro or something in that direction. I have seen it somewhere on the internet. on a dutch site.
J
It's a good phone as long as you recharge it when one bar on the meter battery goes (or three bars are left), if you don't your find it will let you down as the battary rapidly goes after the first bar and only warns you just befor it turns off. This phone is useless if you don't keep an eye on the battery.(A FLAT PHONE IS A CRAP PHONE)
N
I wan't to buy the telephone but first i have 2 know how much it is ...But it's a very buetiful phone..!!!
c
Where can I find this phone ? How much is it?

Whats the difference between this and the NEC N341i????

Anyone please e-mail these details.
Total of 29 user reviews and opinions for NEC N341i.