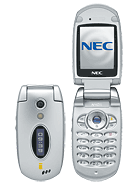 M
Could someone tell me how the MP3 Player is? I noticed that the phone does not have external card memory, is 22MB shared memory enough then?
THANKS!!!

f
u must use the sofware to download the mp3s to your phone and the software does`nt work right with windows xp but with win 2000 its great!!!!
S
how to connect da fone to the computa????
im soo stressed..... plz help me !!!
b
does anybody know how to download mp3's onto the phone?? like actual music not ringtones, ive been trying for ages, its got imode and it has music sites but u cant actually download the music from there!! pleaseee help!! i need sum muzic to listen too!!! wb asap!!!
g
u need to get a wav2mfm program...just type what i did in google in ull find it...i used the mobile movie converter frm nokia...works fine
8
What program do you use to convert wave files to MFM file??

Also, I made a 3gp video ringtone, the sound is good, but the video is choppy :(
g
I ot this fone..its a really gud fone..one of the best ive had so far n ive had heaps in my life..nice big clear screen wit mp3 ringtone (need a cable tho but u can convert it mfm) camera is pretty gud quality and da video has a fast refresh rate so not much of that laggin durin play back...overall gud
Total of 69 user reviews and opinions for NEC N401i.