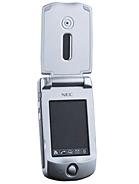 D
Thanks for the beautiful design. I bought this today in Xinxiang Medical College Gate.
I'm Nepali, Assit Prof.of Medicine teaching foreign medical student here. I like this phone and using now, but I don't know how to connect with my PC, please help me.

Heartfelt thanks!

Dr. Ramesh
a
hi.could anyone tell me what the price of the N620 is in shangai in specific and any other place in general..thanks


R
I want one. I'm in South Africa. Would I be able to get this fone with SIM connectivity? How do I go about getting my hands on one like this....? Never heard of NEC in SA. What would the cost in Rand be? Would it be compatible with SA networks????? Please help me get hold of this....!!
K
i like this model very much.is very handy and smart.is perfect for tennagers.a verry good phone and a very good mark of phones->NEC
d
Nec is a good product which is very good to use i would be very happy if you can sell for me to use
t
your looking at motorola a338's lil fu.ck buddy. lol wow good job coyping.
D
Great. It's my dream, but never com true, because it's too expensive for me. I'm sorry about that!
Total of 10 user reviews and opinions for NEC N610.