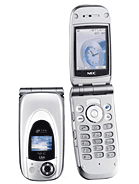 A
What it's memory this phone? 22 MB?
?
How can you turn a recorded sound into a ring tone?
I know the process, but no matter how loud the sound that I record is, it never sounds loud enough to use when I play it.
same goes for the sound recorded in videos.
the loudspeaker has loud, excelent sound, there must be some way for something good coming out of it!!
anyone knows?
?
200 sms message capability, no memory card.
Unless that is of the upmost importance to you, best phone there is.
E
Hello!
Does the N830 have a memory card option or no? Does anyone knoe it? And what about the sms memory??
?
james, your stuck with a useless phone if you got it from Japan. You won't be able to unlock the phone. sorry to say but it's just going to be used for camera only, if the camera works without a Japanese SIM card. Japan phones are strickly software locked and cannot be unlocked by any means.
h
Can you turn the camera sound off?
H
The reception and the voice quality of the phone is not as goos as the panasonic GD88/GD87.
?
I love, but I find it odd though that it seems to be impossible to find reviews on NEC phones anywhere...
Reviewrs just don´t seem to aknowledge NEC´s existence..
o
nec is a good phone dat has the qualities
it every strong and ever lasting phone,nec is my phone and my family
j
Hi I want to buy a N830 but they are not in australia as yet can you please help me thanking you
K
hey when did u get it from James?? i bough it from HK and it's working fine i havent seen any sims card error or anythin" so
j
hi. just got my hands on a n830 through mail. it doesn't accept any sim i put in in it and it just shuts down a few seconds later. what a waste of moolah. i think its network locked and i have no idea how to unlock it. would be great if someone could help.... i can do favors for you too... i can unlock pretty much anything else except NEC... this is the first time i got one
j
hi, i just got my hands on a NEC n830 from a jap friend of mine and i think it's locked by a network there. how do i unlock it? hopefully for free...
E
Where can i find a data cable for my NEC N830 phone? If there is a softwear for this, how much. please reply.

h
hello. ı am from turkey. ı want to use nec mobile phone. how can ı buy. can you send a message
Total of 15 user reviews and opinions for NEC N830.
ADVERTISEMENTS