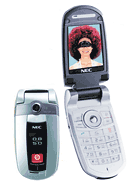 F
Hallo. I have NEC 1.3MEGA but lost my operating book. Please if you can, send me a copy.
Francis B. {fmbarigye@yahoo.co.uk}
H
Hi!
I have NEC N 850 but i have lost the opereting book please if you can send a copy of it i.

Thanks Haji
s
I bought mine from CPW but didn't receive an USB when asked again they say it doesn't come with an USB. Make sure not to buy anything from them. Tell me whether U guys really got it with the phone or bought it seperately.
?
geeze i duno bout u ppl but i meant the usb doesnt even work can someone reply me and tell me how to use it. about the ring tone i download my own i agree that it is soft too.
i meant the camera cant even zum in but the good thing is there light so yea g2g

Total of 5 user reviews and opinions for NEC N850.