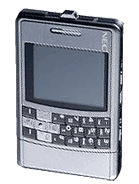 m
As an "extra" gadget,specially for women it's not bad.Does anyone knows how many MB of internal memory it has?
G
It's just wonderful,very beatiful and portable
?
to unknown on 2004-08-26 15:03:25

You mean chea must learn from NEC
H
good phone but i want it in to india.

Awaiting for your reply,

hemang shah
s
i would like to buy the NEC N920.
how much does it cost ?
and how can i do to have it ?
thanks
?
Thats not a phone its a fat little hobbit!
K
What... is... THAT... ??... !! It looks like a purse and it doesnt even have any good features. Its an immidiate MISS!!
j
i thought it was an integrated pressed powder case... for the new generation???????

?
yeah very similar to n910. i regret buying an nec phone. they are shite i'm either going for an o2 x3 or any new motorola phone coming out probably the mpx220.
J
910+video+rounded edges=920 :=) :=)....What's going on???took Nec 6 months to bring out the same phone..??high on price but low on specs..!!what a shame..!!
?
Men, Nec should learn from Chea!
K
this one looks very funny i mean personally it might be working for girls anyway...of course it is...
Total of 33 user reviews and opinions for NEC N920.
ADVERTISEMENTS