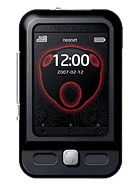 M
If symbian had operational system and wi-fi would be best. I wait that they had arranged the problem of the battery, and a penalty not to have pra to vender in the Brazil
J
this one looks great! wonder how much it would cost & if we'll ever get to buy this N2 beauty in Bulgaria? I guess it would hit 500 Euro, not very affordable price, eh !?!
i
i would love to have this phone.. sadly they dont sell this one in the philippines...
F
I had Neonode N1m. Its a good small phone with interesting touchscreen. The first of all with this feature... Well, N2 looks cool but I was expecting more. Something impressive...
B
This time We hope that...

1) It's grid based LCD display wont Hang in sunlight

2) Removing it's vibrator motor wont be a method to cure many of the phone problems

3) It's battery life wont be miserable like previous one

4) It's plastic wont be that poor like previous one

5) It wont open up into 50 pices on falling down from inches

6) It's GPRS would work in every country

7) It's software would be more user friendly


Total of 207 user reviews and opinions for Neonode N2.