Netflix pushed an update to its mobile app for Android that allows you the ability to store offline content to a microSD card. Only recently, Netflix updated its app for both iOS and Android to allow you to download and store your favorite Netflix for offline viewing. Great for long road trips with spotty signal, your underground train commute, or long plane rides where streaming isnít really an option.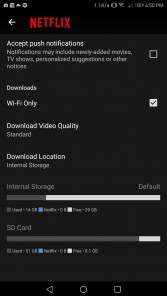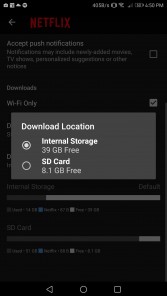 Netflix update allows you to change where offline content is stored
The update has todayís date of January 24 and carries version number 4.13.0 build 14540. Now you can binge watch anywhere, even if you donít have a signal, and it doesn't have to take up precious internal space.
D
I did that Gravatar when I had the Compaq Pocket Computer around 2002. Being able to draw anything is the main reason why is get something with a pen. I almost got the iPhone 7 for the faltered confidence I have for Samsung - first, Note.5, and ...
D
...Oh and remember how I recommended you to buy a Note4 under my different nickname of "BoyNextDoor" before the entire Note7 saga happened?! Well how is the search going on, have you found any stores that still sell it? Or have you given up on the No...
D
Yeah please cancel that 256GB iPhone. I have never understood how a hardcore Android and Note user could turn to the MicroSD-less dark side. BTW, I like that Darth Maul gravatar (that you must have done using the S-pen). Didn't know you were a Star W...