New 360-degree renders of Google Pixel XL leave nothing to the imagination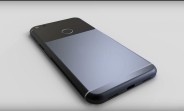 This year's Google phones still won't be officially announced until Tuesday. Until then, we can only get excited about leaks, rumors, and reports about the phones before Google's unveiling of the Pixel phones on October 4.
This time, @onleaks has gotten its hands on renders or each of the Google Pixel and Pixel XL phones. Given the specific placements and complexity of where the antenna lines are, it's more-than-likely that these are renders that were used by case-makers to design cases and accessories for the phones.
Pixel XL render:
There are even exact dimensions of the smartphone that come with the renders. The Google Pixel measures: 143.8 mm x 65.9 mm x 7.3 mm at the thinnest point (bottom) and 8.5 mm at the thickest point (top). Meanwhile, the Google Pixel XL will measure: 154.7 mm x 75.7 mm x 7.3 mm (top) and 8.5 mm (bottom).
Both phones will feature a Snapdragon 821 CPU, 4GB of RAM, at least 32GB of internal storage (we hope it starts at 64GB), 12MP rear/8MP front, and will be running Android 7.1 Nougat out of the box. There is also a fingerprint scanner and rumored IP53 immersion certification. The Pixel will have a 1080p 5 inch screen and 2,770 mAH battery, meanwhile the Pixel XL will have a larger QHD screen at 5.5 inches, and a larger 3,450 mAh battery.
D
Android is unkillable at this point, only Google can kill it now.
D
Lmao funniest comment here.
?
There's no denying that WP is missing A LOT of useful features that are standard in Android. There, fixed. You forgot that Android can run desktop apps from DOS and Windows 3x/9x. Windows Phone? uhh, no, they can't even run their own operat...