New Alcatel OneTouch Fierce XL renders reveal a Windows 10 and an Android version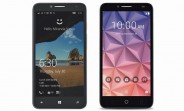 Despite keeping a low profile on end user markets, mobile veteran Alcatel is still around and has found its little niche and way of surviving in today's dog-eat-dog smartphone realm. The OEM's typical turf nowadays are low-end Android devices and lots of them, typically tailored and customized to meet carrier requirements and needs and then offered as subsidized offers. However, Alcatel appears to be trying to branch out into other more contemporary fronts, namely Windows 10.
Back in September, we reported on an interesting Alcatel OneTouch device, leaked by one Evan Blass (@evleaks). Dubbed the Alcatel OneTouch Fierce XL, it was described as the company's first go at a Windows 10 smartphone. After a long period of silence on the topic, a new set of renders has now surfaced of the alleged smartphone, courtesy of the same quite reputable source.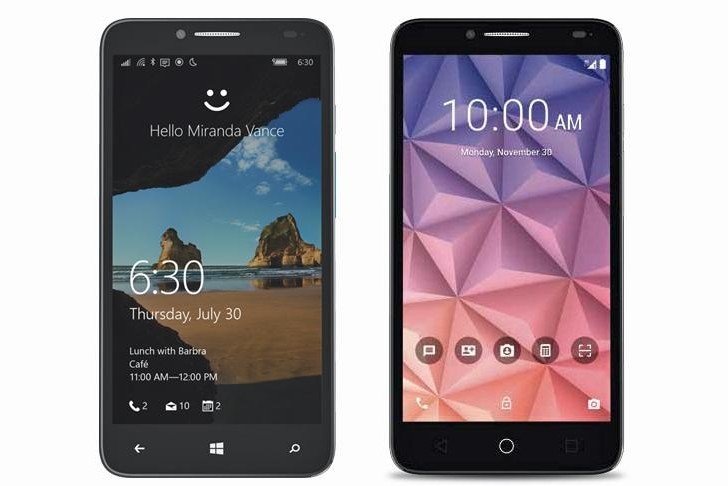 What is perhaps most interesting about the new development is that the OneTouch Fierce XL is pictured in two distinct version – one running Windows 10 and the other one Android. The renders even suggest that there will be some physical differences between the two variants, namely the Windows logo home button on the former, as well as the other capacitive controls. At first glance, it appears they are missing from the Android unit, but they are there, just not lit-up and a bit differently marked.
Alcatel OneTouch Fierce XL for Windows (left) and Android (right). Both destined for T-Mobile USA. pic.twitter.com/bhHOIYiC2L

— Evan Blass (@evleaks) October 17, 2015
As for the specs, @evleaks previously revealed that the handset will be powered by a Snapdragon 210 SoC (probably not powerful enough for Windows Continuum), and will sport a 5.5-inch 720p display. It will have 2GB RAM and 16GB expandable internal memory, and pack in a 2,500mAh battery. In terms of camera, the device will feature an 8MP rear unit and a 2MP front shooter. It is also said to support VoLTE.
There was also mention of the US T-Mobile carrier as part of the leak, but we can't really be sure if that suggest the handset will be an exclusive offer. Also, as far as we currently know, it should be officially unveiled this December.
D
Size matters.. i have a zenfone2 and its a nice size screen and fits in my pocket.. i have a 2nd line im replacing a old lumia 521 and this is a nice upgrade to that... i dont care for continum or for windows hello ..
F
For the same reason TV manufacturers keep jamming 60+ inch screens down our throats. Do you really have such a big room with so many people that you need a 5 or 6-foot diagonal screen? Who needs a 5.5-inch screen bulging in the pocket? At some point,...
?
If it really snapdragon 210, it is better to get the windows version. I dont think android could handle it.