A Voyage takes you to Oasis, naturally. No, these are not my travel plans, Amazon just announced the new Kindle Oasis, an even more premium premium e-book reader.
The new design tapers the thickness to just 3.4mm on one end, keeping the other end thicker (kind of looks like a folded magazine). AND YOU GET PAGE TURN BUTTONS BACK... sorry, just not a fan of the touchscreen page flip.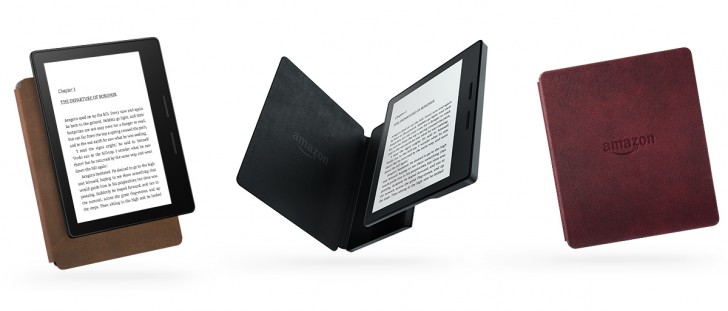 Anyway, this curved design allows for premium covers to be magnetically attached (firmly, there are 12 magnets!). The covers are bound in high-quality leather (Black, Walnut, Merlot) and have a built-in battery. This extends battery life and simplifies charging - you can read on the Kindle and charge the cover, then head out with both knowing you'll never run out of juice. Not that this is much of an issue with months of battery life, but still.
The other major upgrade is the backlighting. There are now 10 LEDs that illuminate the page more evenly, compare that to the 6 LEDs in the Voyage and just 4 in the regular Paperwhite.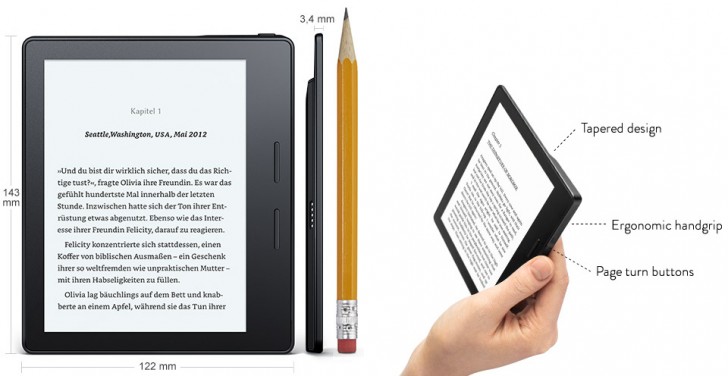 The screen is still 6" big with 300ppi pixel density, same specs as the Paperwhite and Voyage. The Oasis is lighter though (131g without cover vs. 180g), though despite its name it is not waterproof in any way.
The Amazon Kindle Oasis is pricey at $290/€290 (€350 with 3G).
R
This is a joke of kindle, not only they said the voyage didn't sell cause of price tag was too high. But then now, they did even up the price by 100$, which is crazy. The merrier is the internal battery is 250mah, previous version was 1470 mah...
D
for that price they should give bigger screen size at least 8 in or 9.7 in is better. I have 2 kindles. 1st gen kindle touch and all new paperwhite. Eventhough the latest kindle is a huge improvement, still it is not an ideal gadget to read pdf forma...
?
isn't six inches about the diagonal measurement of an large-average sized paperback? I imagine thats what they're going for, and people have been fine with that for decades