A new Asus smartphone was certified for Bluetooth 5.0. This particular smartphone carries the model number ZS551KL, which is likely to be a variant of the Asus Zenfone 4, likely to be a "Deluxe" or "Pro" model, three of which are said to be unveiled next month in Taiwan.
The certification was published at Bluetooth SIG (Special Interest Group), the organization responsible for the development and trademarking of the Bluetooth technology.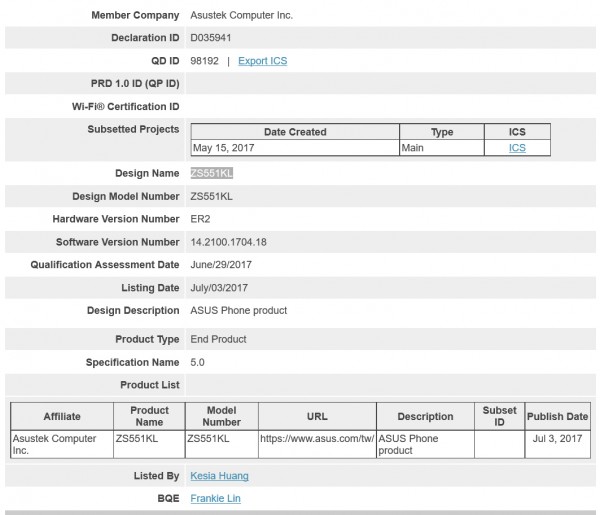 Source: Bluetooth SIG
Given that the Zenfone 3 Deluxe carries a very similar model number: ZS550KL (at least in the US), the purported device could be a Zenfone 4 Deluxe model.
Although we did see another Asus model clear the FCC, we don't think they are the same device. Aside from the drastically different model numbers, The Asus X00ID (another midrange device) has a 5.5-inch 720p screen and ticks a Snapdragon 430 CPU, which couldn't possibly feature the newest Bluetooth technology.
We'll be keeping an eye on this particular Asus model and see where the company decides to launch a higher-end handset with Bluetooth 5.0
Thanks for the tip!
?
LOL. OnePlus 5 also have the same price as Galaxy A series.... LOL. But....
?
Zenfone 3 has same price as Mi5 here. But, check these perform on YouTube. Im lazy to tell the winner.
?
Glad you know that kirin only good in raw CPU performance. But lack in other area.... And this is the reason why I stay away from huawei phone. Because the detail is the one that make a phone premium. I want a good fast phone with great battery ...
ADVERTISEMENTS