There's still no official word from BlackBerry about just when the newest DTEK60 model will be released. However, a new report from Pocket-Lint says that a new listing on German Media Markt shows the TCL-built BlackBerry device in question with a price tag of around $499 which is to be launched in the US, Europe and Canada starting on October 25.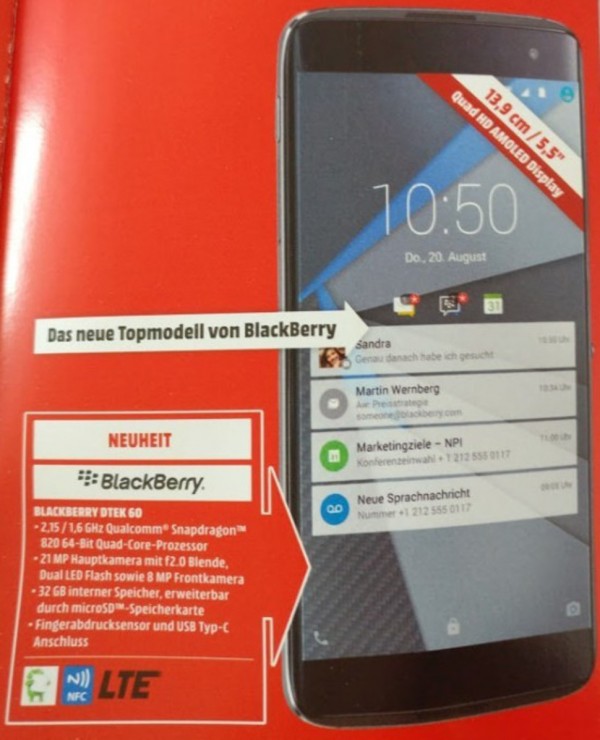 This will be BlackBerry's first high-end smartphone since the BlackBerry Priv, which launched about a year ago with an ambitious price tag. This time around, the rumored price seems a lot more reasonable. That price will get you a 5.5 inch QHD screen, a Snapdragon 820 CPU paired with 4GB of RAM, 16MP rear-facing camera, as well as a rear-mounted fingerprint scanner, dual firing stereo speakers, and a USB-C charging port.
Perhaps a BlackBerry DTEK60 could serve as a replacement for the Samsung Galaxy Note7. After all, the BlackBerry was always known for its enterprise and security features. Thing is, even with BlackBerry's productivity features for getting things done and its unified inbox may still not be enough to satisfy those who long for an S-Pen and a slightly larger (5.7 inch) display.
?
Did not see the response to the question if this model is whatsapp compatible. Is it compatible with the most recent version of Whatapp please?
r
is this one going to used a whatsapp application?
o
not bad at all! Nice Blackberry! with Samsungs exploding and iphones with the touch disease, this might sound like a nice option to replace my LG3