New Gboard beta update with new font now rolling out to all beta users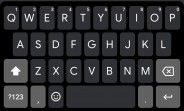 The latest version 10.1 of Gboard brings a new look to users who are enrolled in the beta version of the app. As 9to5Google reports, the new version of Gboard began a smaller, more controlled rollout of the update back in September.
The update brings minor changes to the keyboard's appearance, including a change in font that's closer to Google Sans, so it would more closely match the Pixels' UI. This font makes the letters on the keyboard appear somewhat rounder than before. There's also a slight change in the upper bar of the keyboard when set to the dark theme, and the light theme has darker letters that help better contrast.
Again, the change isn't very drastic, but it shows Google's efforts to tighten up the design elements and appearance of Gboard to more closely match its Pixels. If for some reason you don't like the new find, you can always revert it back to the old one. Sign up for the beta and download the update from the Play Store here.
D
This theme come to me and disappear in five day I'm not beta tester
C
I had the new font design like for 3 days and I loved it...but after I restarted the phone yesterday, it disappears...