Google has pushed out a new update to its Calendar app. The update brings along a new 'smart suggestions' feature that the company claims lets you quickly create events.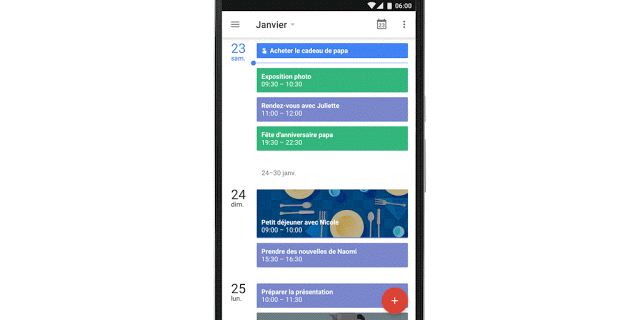 "When you begin typing an event title, you'll see matching suggestions―choose one or keep typing," Google explained in a blog post. Tapping "at..." lets you add a location to your event and later get directions.
Similarly, tapping "with..." allows you to add people to your event - you can call or message them from the event, but can't send them an invite. Finally, tapping "on…" lets you specify the date, time and duration of the event.
The update - which also brings support for 30 new languages - is available on both Android and iOS.
d
we started losing that security long before. with the IOT (Interenet of things) getting popular, like your Thermostat, Fridge, Washing machine.... getting connected to wifi, in a few years THEY gonna know where exactly are you in the house and what e...
t
u must read google's privacy policy.
z
Any news on ms exchange compatibility?