Google has rolled out a new update to its Google Photos app that brings along the ability to undo any edits that you make to images. Previously, this wasn't possible, with the app creating a new copy of the image each time an edit was saved. Thankfully, that won't be the case now.
To take advantage of the feature, first open an image containing edits, then get into the edit mode by tapping the edit icon at the bottom (next to the share icon), and finally select the 'Undo edits' option that appears when you tap the overflow menu in the upper right corner.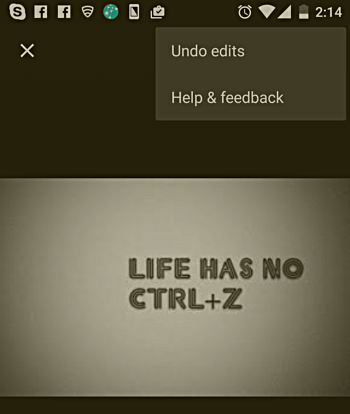 "Sometimes it takes multiple edits to get a photo just right – or you change your mind and decide the original was perfect just the way it was," Google Photos team wrote in a Google+ post. "With today's update for Android, editing is now fully reversible and non-destructive. So you can save your edits or save a new copy of the photo – either way, the original photo will remain untouched."
Y
better than the useless Picasa in some android phones which you can'even uninstall or disable, psh
?
Google still trying to catch up in the mobile OS department.