Devoted to creating unique and expensive mobile phones, Gresso, one of the active luxury mobile phones companies have just announced an upgrade to their latest product line called the Grand Monaco LE.
The newbies are inspired by the Formula 1 race cars but what makes them special is the materials they are made of.
If you are into highly expensive luxurious mobile phones, then you should definitely check our just posted Million dollar review - our own window shopping tour in the world of insanely expensive handsets.
When it comes to handsets like Gresso's each material deserves attention. But this time leather is the main topic. By the way, most probably that is what the "LE" in the line name stands for - "Leather edition".
It's pure genuine leather but it has been specially impregnated to last as long as possible. The impregnation techniques used are similar to those used in the leather interiors of the most expensive Italian cars.
Gresso Monaco LE series comes in two color trims - bright red and black, and both suit the mobile phones just great.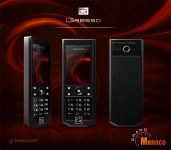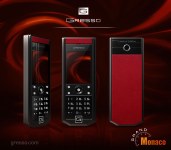 The Gresso Grand Monaco LE line is available in red or black
And that's where the similarities to the other Grand Monaco devices begin. The casing of each Grand Monaco LE luxury phone is made by titanium with multilayer ceramic coating and the display is covered by a 42K hand-polished sapphire crystal promising remarkable scratch resistance.
For the keyboards a sheet of polished steel with laser cut symbols has been used. Titanium black PVD coating gives the surface the dark mirror-like finish and make it scratch-proof at the same time.
Stainless steel is the main topic as well when it comes to the navigation keys.
Underneath things aren't that fascinating but that won't surprise anyone. Along with Bluetooth, e-mail and EDGE support you get a 2-megapixel camera and an eye-catching menu design.
The Gresso Grand Monaco LE line is already available for purchase across the dealers showrooms at a price of 1800 US dollars.
t
ppl who buy phones can be awarded the best fools of the planet!!! lol
?
These aer just those status phones. For the people who have the money to spend on a painfully expensive phone. They aren't for people who really use mobile technology to the extreme, just simple call and text, with a basic camera.
ADVERTISEMENTS