New Instant Tethering feature is rolling out as part of Google Play Services 10.2 for Android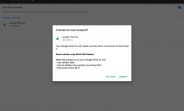 Google is currently in the process of rolling out the latest version of Play Services, namely 10.2, to all Android devices. As usual, there's nothing you need to do - Play Services updates automatically in the background. Once you get this version, you may also receive a neat new function called Instant Tethering.
Here's what it does. Say you have an Android phone and tablet, both connected to the same Google account. You're browsing the internet on the tablet at home, connected to your wireless router's Wi-Fi network. But then, all of a sudden, this becomes unavailable or gets disconnected from the internet. With Instant Tethering available and turned on, you'd then receive the following message on the tablet: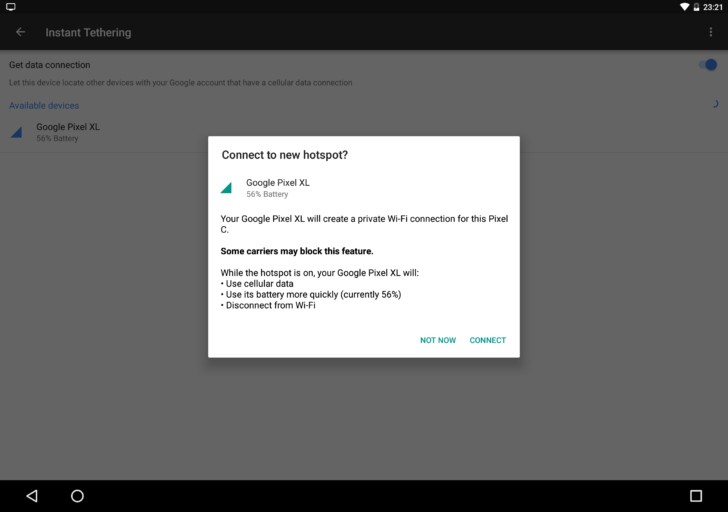 If you tap Connect, your phone (which you don't have to touch for this to work) will disconnect from Wi-Fi, connect to cellular data, start up a mobile hotspot, and allow your tablet to connect to it - and the tablet will do just that automatically. So with literally one tap on your tablet you've gone from being connected to a network sans internet access, or being disconnected altogether, to browsing the internet through your smartphone's data plan. And that's without having to pick up the phone, turn off Wi-Fi, turn on cellular data, and turn on the mobile hotspot functionality.
The bad news is that not a lot of people have Google Play Services 10.2 yet. As usual with Google, it's a slow rollout. And even if you do, that's just a prerequisite to see the Instant Tethering feature. Google still has to do a server-side switch in order to enable it. So it could be a while before you see this on your devices.
To check for it, go to Settings > Google and look for Instant Tethering. If it is there, you can tap on it to see two options which can be toggled On or Off: Provide data connection (if the device you're on has a cellular connection and you want it to make it available to your other devices), and Get data connection (which lets that device locate others with your Google account that can provide a cellular data connection). In the example above, the phone would be the one "providing" a data connection, while the tablet is the one "getting" it.
A
So, how this will work, exactly? The phone will start broadcasting its presence 24/7? I hope there will be a way to disable it. Is there an option to approve/deny data request, to prevent unauthorized leaches???