Intel unveiled a number of new Atom chipsets that will power mobile devices spanning the sub-$75 market all the way to the $350+ segment. The most affordable devices will be based on the Intel Atom x3, which features an integrated modem with either 3G or 4G LTE connectivity. The more advanced x5 and x7 chips will bring 450Mbps LTE, new generation Intel GPUs and a cache of advanced Intel tech.
Intel Atom x3
The Atom x3 chips will have 64-bit processor (as all mobile Atoms) and will support both Android and Windows. They support dual-SIM devices with 3G or LTE connectivity, Wi-Fi, Bluetooth, NFC, GPS and GLONASS, the whole nine yards.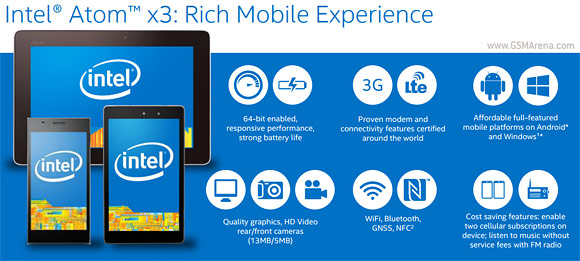 The x3 name covers three chips of a common C3000 series. At the lowest rung of the ladder is the C3130, which has a dual-core 1GHz processor and a dual-core Mali-400 GPU. The processor promises around 50% performance boost over a Cortex-A7 with four cores and at a higher frequency to boot. The chipset also comes with 21Mbps HSPA+ modem on board.
Then the C3230RK (1.2GHz) and C3440 (1.4GHz) have quad-core processors and are coupled with Mali-450MP4 and a more recent Mali-T720MP2, respectively. The C3230RK offers an additional boost over the Cortex-A7s, nearly 80% (you'd think it will be faster with twice as cores as its little bro).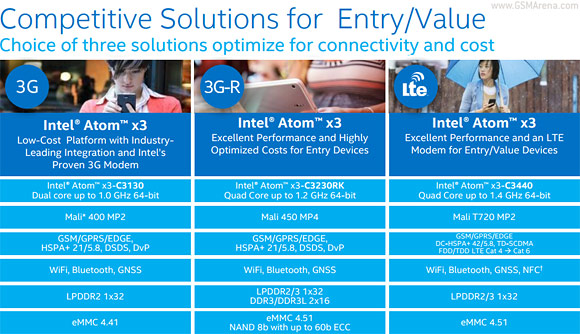 The top chip of the x3, the C3440, doubles the 3G speed with 42Mbps HSPA and brings LTE Cat. 6 (both international and Chinese flavors). For phones there's dual-SIM connectivity and Voice over LTE (VoLTE). Locally it supports 650Mbps Wi-Fi networks (802.11ac).
In terms of performance, Intel estimates it will offer a 33% advantage over quad-core Cortex-A53s. Note that this comparison is with existing devices in the price ranges that Intel targets.
Intel Atom x5 and x7
The new Intel Atom x5 (Z8300 and Z8500) and x7 (Z8700) chipsets are exclusively quad-cores based on Cherry Trail, built on Intel's 14nm process. They move to Intel's own Gen 8 graphics, instead of old ARM designs and come with an Intel LTE modem capable of up to 450Mbps downlink.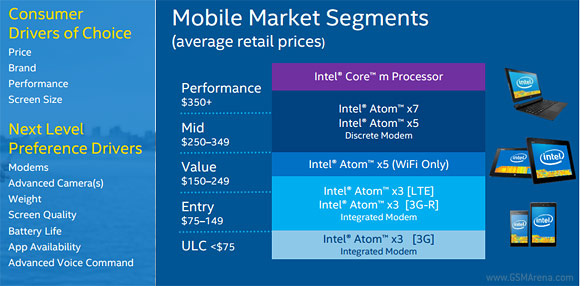 The mainstream x5 and performance x7 chips will power Android and Windows devices, which will start at a pretty low price - $120. Intel sees these into devices ranging from 7" tablets to 10.1" laptop/tablet hybrids. The first devices are expected in the first half of this year.
Compared to the current top dog, the Atom Z3795 (which uses an Intel Gen 7 GPU), the Atom x7 will double the scores in the GFX T-Rex benchmark and do 50% better on 3DMark Ice Storm Unlimited, according to Intel's number.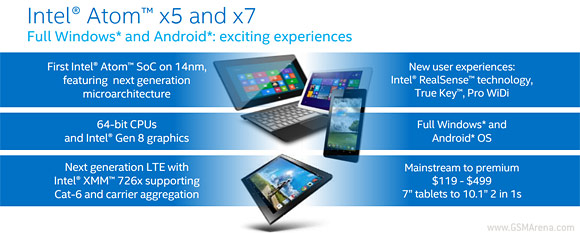 There will be a Wi-Fi only version of the Atom x5 aimed at the $150-$250 value segment, while the LTE-enabled chips will have dual-SIM and 450Mbps LTE, VoLTE and should come out in the second half of 2015.
Thanks to Intel's in-house tech, these chipsets will support WiDi (wireless TV out tech), RealSense (selective focus and other effects), RealSense 3D (depth sensing with two cameras) and Tr
F
No. Just no. The Intel fanboy in you may wish it, but that doesn't make it so.
D
I would like to see them on Android and if they come out, I hope the chip will do good in terms of battery life, gaming performance and affordability.
ADVERTISEMENTS