Smart sticks let you turn any display into a smart one, but the Windows-powered ones have been underwhelming, even the one by Intel. Well, the chip giant is having another go at it and this time the results are much better.
There are three options, the top-specced one is powered by a Core m5 vPro processor, that's a lot of computing power on something you tuck behind the TV. There's a more affordable but still powerful Core m3 version and an Atom x5 one for the no-thrills experience.
The Core m versions come with 4GB of RAM, much better than the 1GB/2GB of the original. You also get 64GB of built-in storage, plus a microSD slot and two USB 3.0 ports to expand storage. The Atom x5 version has 2 gigs of RAM and 32GB storage, also one of the USB ports drops to 2.0.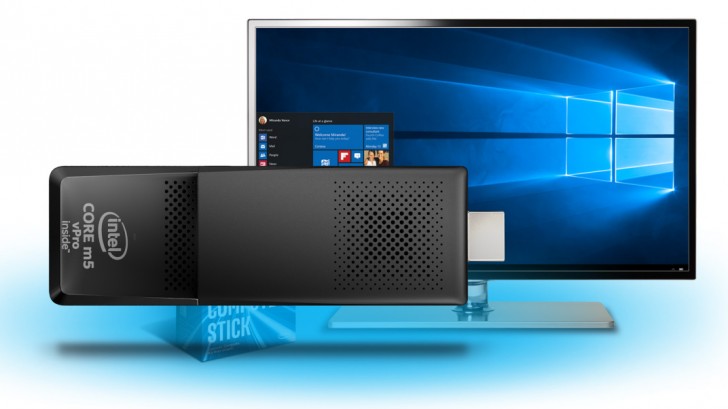 You'll probably use it for a keyboard/mouse anyway (unless you use Bluetooth ones). There's on-board dual-band Wi-Fi ac so that saves a port.
All three sticks end with an HDMI 1.4b plug which supports 4K at 24Hz and 3D 1080p at 60fps (but no 4K @ 60fps or 3D). All three versions have hardware decoding for the new HEVC/H.265 standard, but it seems like the Atom version is limited to 1080p (even though the chipset should support 4K).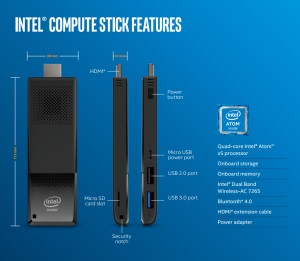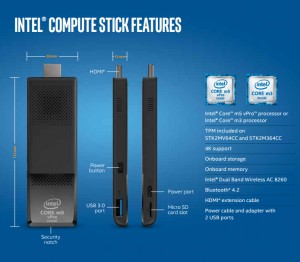 Intel Compute Stick: Atom x3 • Core m3/m5
Note that Windows 10 costs extra on the Core m3, an extra $100 over the $300 base, while the $160 Atom model gets it for free. As for the Core m5 stick, that one will cost $500 and comes only without an OS. They go on sale next month.
?
This is very expensive we can get a starter PC with more power at the asking price of these sticks...
?
If the first stick only cost $159 and users can now get free win 10 update, it means intel is selling junk... Why must users now pay $399 for m3 stick with windows 10 ($309 for stick and $90 for windows 10). They should rather sell the m5 stick with ...