New iOS 11 auto-correction issue uncovered, prevents users from typing 'it' and 'is'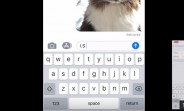 Just a few weeks after Apple fixed a weired issue in its iOS 11 operating system that resulted in 'i' being replaced by 'A[?]' while typing text, another auto-correction issue has been uncovered.
This time users complain that they aren't able to successfully type common words like 'it' and 'is', as iOS auto-correction forces them to be replaced by 'I.T' and 'I.S', respectively.
Why has Apple been auto correcting "it" to I.T ??? Like it is a common word used in most sentences I look like a moron texting people now pic.twitter.com/4lW8QAU9ea

— Sean James (@Sean_w_924) November 1, 2017
Steps like device rebooting and other basic troubleshooting doesn't help. Some users say entering 'it' and 'is' as both phrase and replacement in Text Replacement (Settings > General > Keyboard) works for them, but others say that still doesn't fix the problem.
The only way out currently is to turn off the auto-correction feature altogether, which we agree is less than ideal. Apple hasn't said anything about this new problem yet.
s
lol .... just hope it does not randomly skip the red lights.
?
Leave the poor ol' Pixel 2 owners alone, they have enough problems of their own. Seems like another week, another problem for them. I bet when the Google driverless car goes into production Google will forget to put any doors on it.
s
Another reason to laugh your day out - https://www.androidauthority.com/google-pixel-2-xl-random-reboots-lte-bug-fix-818164/
ADVERTISEMENTS