The upcoming OnePlus 5 has been the subject of several rumors and leaks so far. It's currently said to come with a 3,300mAh battery, but - if a new leak is to be believed - that might not be the case. The leak says the device will pack in a larger, 4,000mAh battery.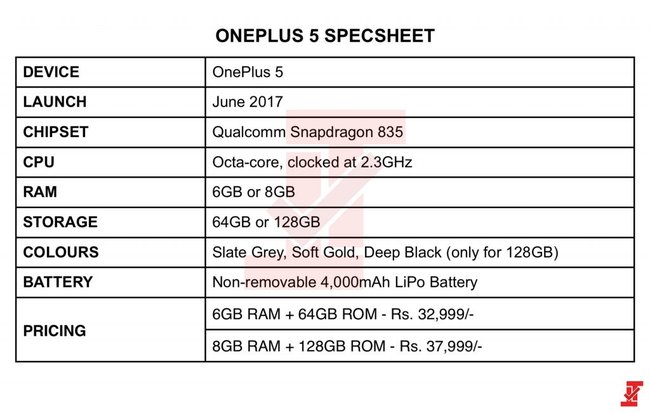 The leak also confirms some other key information we already know from past rumors, including chipset, memory, and pricing. It also reveals Slate Grey, Soft Gold, and Deep Black color options.
Needless to say, none of this has been officially confirmed (except for the chipset, of course) and it doesn't match the majority of other rumors so don't get your hopes too high. The phone is set to be officially unveiled tomorrow (June 20).
D
It's actually a good phone. I won't buy it anyway. But I think it's not necessary. onpelus 3t didn't use 6gb. i already have a phone
d
If one plus 5 comes with 4000 mah battery, i will buy is for sure,.. cuz.. other many flagship phone lack battery back up which have lower battery capacity
D
The second lens is telephoto.There is a video about oneplus 5 on verge.
ADVERTISEMENTS