If you recall, back in June there were rumors that BlackBerry is working on three new devices, codenamed Neon, Argon, and Mercury. While the Neon has already been released as the DTEK50, it looks like the Argon will carry DTEK60 moniker at launch.
The information comes courtesy of a document hosted on BlackBerry's US website that lists all the key specifications of the DTEK60.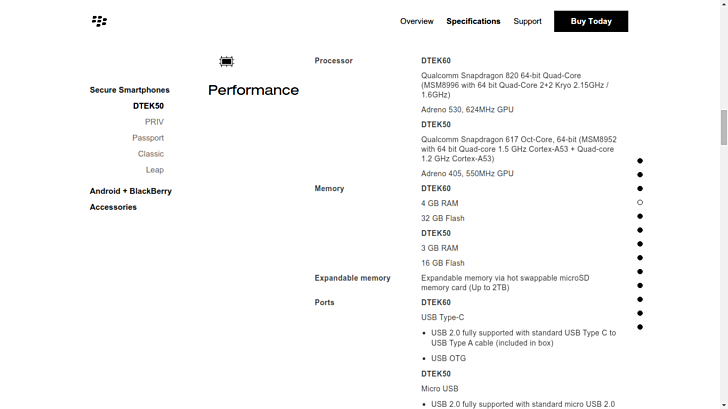 The document reveals that the DTEK60 will be powered by Snapdragon 820 chipset (64 bit Quad-Core 2+2 Kryo 2.15GHz / 1.6GHz), and will sport a 5.5-inch Quad HD display. It'll have 4GB RAM and 32GB storage, and pack in a 3,000mAh battery.
The camera department will be handled by a 21MP rear unit and an 8MP front shooter. The device will also feature a fingerprint sensor as well as an all touch screen with intuitive gesture based navigation.
If you compare, these specs are exactly inline with what has already been rumored about the Argon, strongly suggesting that the device will hit the market as the DTEK60.
W
Still waiting for the smaller version of the Priv 4.7" display with actual keyboard thinner, sleeker,lighter,etc. It will overcome Apple i phones.
g
Of course there is optimized softwares..... there are some Chinese phones with 6000mah battery with entry level chipset and HD display. Even though it's like a brick in hand it's battery will finish in 24 hours with heavy usage. S7 with Qhd display ...
?
There is no such thing as " Well optimize software ". Look at IOS, Android ans Windows. They have been working on their software since long time and still not able to succeed. So, battery capacity should be increased.