The Lenovo Yoga Book 2-in-1 was unveiled at IFA this summer and it managed to instantly turn heads thanks to its unique design that's devoid of a traditional physical keyboard. Instead, it comes with a pressure-sensitive surface where they keyboard should be, which you can use as a keyboard, but it's also possible to jot down notes and stuff on it using the Real Pen stylus.
So far Lenovo has been selling the Yoga Book with either Windows 10 or Android preinstalled, but starting in 2017 there will be a third option - a Yoga Book running Chrome OS. This was confirmed by Jeff Meredith, Lenovo's vice president and general manager of the Android and Chrome Computing Business Group.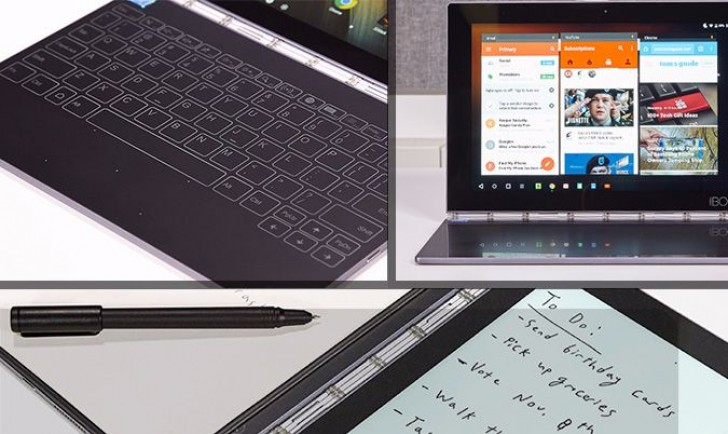 Apparently the company saw a lot of interest for such a device, and it's started working on it. For now there are no exact release details (or pricing information), but it's at least good to know that a Chrome OS powered Yoga Book is in fact coming. Meredith said the Real Pen stylus will work exactly the same as it does on the Android version of the device, letting you take notes or sketch either on a paper pad that magnetically attaches to the Yoga Book or the bottom half of the laptop (where the keyboard should be). The pen offers 2,048 levels of pressure sensitivity, and those will stay in for the Chrome OS model.
In the US, the Yoga Book has only been sold in Walmart stores so far, but that will change in 2017, with more brick-and-mortar retailers getting it. Sales have been particularly good in China, Germany, and Japan, Meredith says. The company has hired over 100 people to work on improving the software on the Yoga Book and other devices, so we should probably see some results for this next year too.
?
Hope Lenovo makes a Yoga Book Plus version with at least a 12" screen with Android 7 on board. Present model, halo key board is too small to type and would prefer a larger screen
?
M$ is working together with qualcomm to run full windows 10 using snapdragon chips. Already succeeded using snapdragon 821. It can run big apps such as photoshop and games without any modifications. They show it in youtube. Sure.. google will lose. ...
?
So how do you run virtualization on chrome/droid? How do you compile your codes?