Two new images of the upcoming Moto X+1 have surfaced, courtesy of TK Tech News.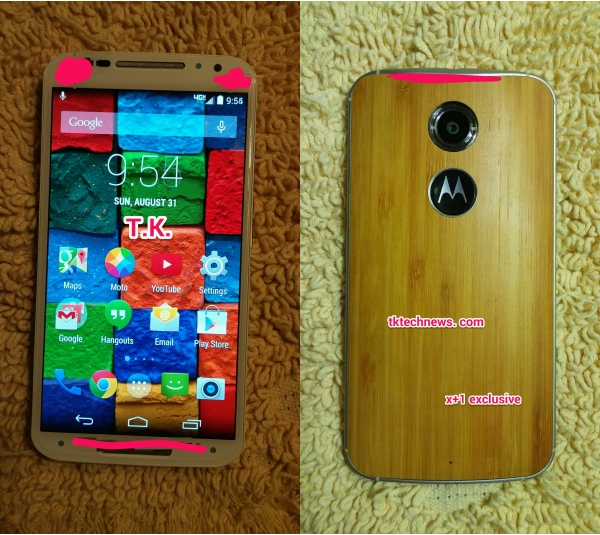 The latest images show the front and back of the phone. Along the front we see the loudspeaker below the display as on the Moto E but it's not sure if the one above the display is a second loudspeaker or just the earpiece. There are also the four sensors in the four corners of the phone similar to the Amazon Fire but their functionality remains a mystery.
On the back we see the camera with an oversized Motorola logo. The logo is actually a power button, which explains its side. The ring around the camera lens has a flash built into it.
The picture shows the phone with a wood finish back and aluminum frame around the side. The source says the phone will be available in multiple material options for the back, including plastic, wood, leather, denim, and even a carbon fiber option that will apparently be exclusive to Verizon.
Motorola event is slated for September 4, which is just three days away from now. We should find out more then.
D
The design is very unique, unlike Samsung which virtually copies Apple's designs e.g. Alpha (and no, I am not a big fan of Apple). It definitely has a lot of unknowns, like the sensors in the corners. Whether you like the design or not, you have to a...
d
This is the Nexus 5's bretheren. The Moto X+1. That camera better be good.