As an unexpected information leak confirmed, Motorola has plans for releasing a handful of new handsets in 2007. Those include MOTO RIZR Z8, MOTO KRZR K3, MOTO Q2 HSDPA, MOTO Q GSM/EDGE plus the budget W360, W205, w510, W395 mobiles.
The mobiles were included in a presentation that Ron Garriques, Executive Vice President of Motorola, gave to investors. The presentation included several new mobiles, most of which confirm the marketing strategy of Motorola to release updated versions of their already existent platforms. As for now technical specifications for the mobiles are not clear but the information leak source leads us to believe that these models would most definitely be released officially.



Motorola RIZR Z8 • Motorola KRZR K3
The Motorola RIZR Z8 is an updated version of the Motorola RIZR Z6 which is already officially announced but isn't yet available. Its front camera most clearly reveals that we are dealing with a 3G handset here. The next mobile, MOTOKRZR Z3, is again an updated version - this time of the Motorola KRZR K1 clamshell. It would also boast 3G functionality with video calls as the pictures reveal.
Among the so-called Enterprise line of Motorola the definite highlight is that there will finally be a Motorola Q version with GSM/EDGE support. It was announced long ago and rumors had it that it wouldn't be manufactured at all. Another Enterprise handheld would be a HSDPA version of the Motorola Q2.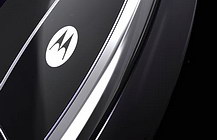 Motorola SCPL Broadband Platform teaser
Another intriguing leak is the somewhat mysterious picture of the future Motorola SCPL which was presented as a platform a year ago on the 3GSM at Barcelona.
Last but not least, the Motorola would be adding a number of budget handsets to its mobile portfolio - the bar form factor mobiles Motorola W360 and Motorola W205 and the clamshells Motorola W510 and the Motorola W395.





Motorola W360 • Motorola W205 • Motorola W510 • Motorola W395
More about the future 2007 Motorola mobiles would be unveiled at the 3GSM in Barcelona this February. Expect a live report straight from the action at GSMArena.com.
z
anyone have any info on whether motorola intend to upgrade the motoming (aka a1200) to bring it into 2007? adding EDGE to a model that is over a year old doesn't really help it compete with the likes of the nokia n95, SE k810 or apple iphone. i was h...
R
@Help Desk So what is it that I'm looking at the moment on my motoA780? I guess it is not a Motorola phone 'couse it has Linux AND I can view everything that you are mumbling about. Get a gripe.
ADVERTISEMENTS