A LTE-enabled variant of the Moto G (2014) has been circulating in the rumor mill for quite some time now and now it's finally become a reality. Motorola has apparently opted out of an official announcement and instead the new handset crept up on us and appeared on the manufacturer's Brazilian page and is already available to purchase.
The move was only logical since the first generation Moto G proved to be such a huge hit, both in emerging markets and even in places like the UK with the LTE upgrade only sweetening the deal even more. The budget-oriented, Moto G 4G (2015) offers a slick and clean almost pure-android experience just like its predecessors and comes with a few notable modifications over the base version.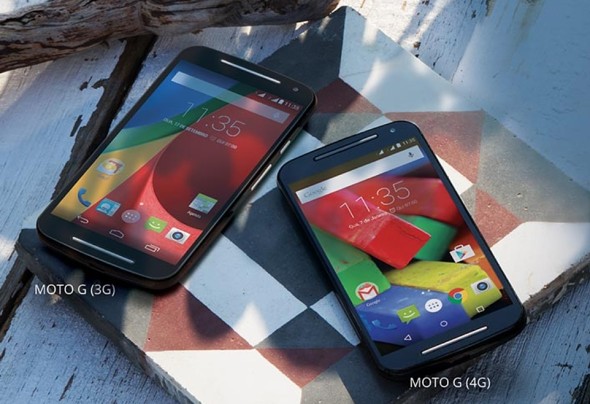 First and foremost Motorola has decided to stick with the dual-SIM setup and make it available in the 4G variant as well. The phone comes equipped with two micro SIM slots with presumably only one capable of LTE speeds. Other notable changes over the Moto G (2014) include a larger, 2,390mAh, battery which should compensate for the increased power consumption from the new modem. Onboard storage will be 16GB with no 8GB option available and physically the smartphone will retain its compact dimensions with only about 6g of extra weight due to the beefier battery.
The rest of the internals are unchanged. The handset is still powered by a quad-core Snapdragon 400 SoC, clocked at 1.2GHz, has the same 5-inch 720p display and the same camera setup - 8MP main and 2MP front-facing shooter. A small, but significant detail to note is that the new device will be shipping with Android 5.0.2 Lollipop, while previous Moto G phones are still mostly running 4.4 KitKat and despite Motorola's best wishes are still waiting on an update.

The new Moto G 4G (2015) can already be purchased from a Brazilian retailer for BRL 899, which is about $345. This definitely seems like a premium for a device that is supposed to be budget-oriented and it is. Brazilian handset prices are traditionally very high and not representative of what smartphones costs elsewhere.
Despite its inconspicuous arrival the new Moto G 4G (2015) has all the right ingredients to continue to legacy of its predecessor and if Motorola manages to keep costs low than the handset definitely has a bright future ahead of it.
T
Don't blame Motorola for the high price. This exact phone in the United States $220. I think the government takes a large piece of the pie.
m
Whats the model number Of moto devices mentioned above in brazil?
ADVERTISEMENTS