Geekbench has proven itself quite an abundant source of device leakss. All you have to do, of course, is sort through the fakes and junk and occasionally, you can get a sneak peek at an upcoming handset. This is precisely the case with the Xiaomi "markw", spotted in the Geekbench online database by one Roland Quandt.
New Xiaomi "markw" showing up on Geekbench with Snapdragon 625 1.4g octa core, 3 GB RAM and Android 6.0.1 pic.twitter.com/0V3fnNm9mv

— Roland Quandt (@rquandt) June 29, 2016
The unit in question reports that it is running on a Qualcomm Snapdragon 625 chip, clocked at 2 GHz, along with 3GB of RAM. This does allow us to extrapolate the fact that the phone will most-likely be equipped with a 1080p display, since the Snapdragon 625 chip tops out at 1,900 x 1,200 at 60fps in terms of display resolution.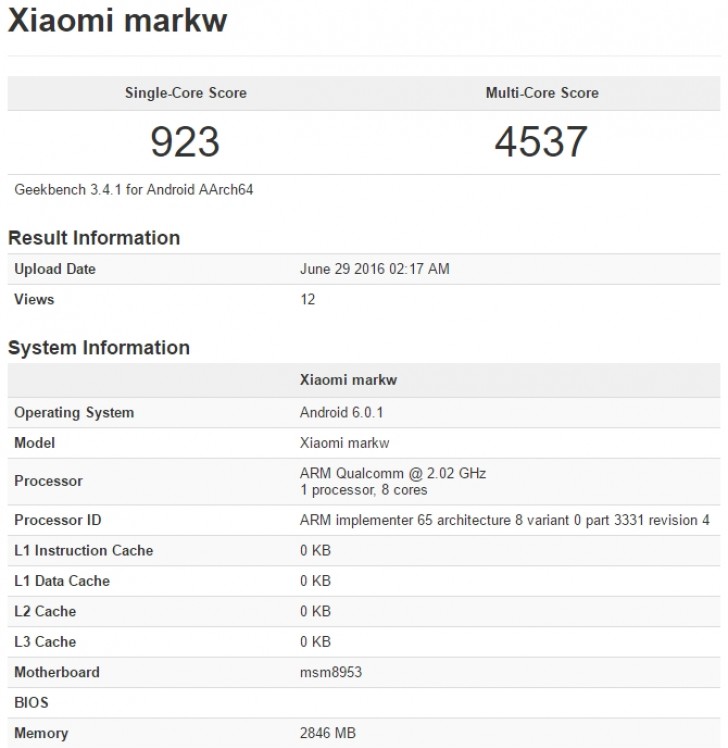 The chipset also comes with 4K video (with both AVC and HEVC codecs) recording support and while we can not comment on the camera itself, other than the fact that it can not exceed 24MP in resolution, it will likely take advantage of said 4K video support. Wi-Fi ac is also likely a given and so is Quick Charge 3.0.
Sadly, that's about as much information as we can piece together. Other than that, Geekbench was also kind enough to report that the Xiaomi "markw" runs on Android 6.0.1. From the looks of things, this could be another quality mid-range addition to the Redmi Note family. We just have to wait and see.
S
Of course it is the upcoming Redmi 4. No way to be a Redmi 3 variant, no way to be Redmi Note 4. The 625 is the successor of Redmi 3's 616, a bit higher clocked and in better lithography. It cannot be the successor of 650 which have 2 A72 proce...
D
I think it will be redmi note 3s
D
this must be the biggest lie. I have Redmi Note 2 that I paid for 152€ and it has MANY MANY MANY features of softwares and hardware than almost every phones in the same price, like lg samsung huawei sony motorola etc etc etc etc. the best buy I ever...