New Nexus 6P version gets benchmarked with Snapdragon 820, 4GB of RAM
Earlier today we once again heard that HTC is the company in charge of building this year's two Nexus-branded smartphones for Google. And now it looks like one of them may have just been spotted in a benchmark's database.
An intriguing entry for "google Nexus 6P" is available in Geekbench's online score browser. The name is pretty much identical to the Huawei-made device that's been announced last year, but this Nexus 6P has different hardware.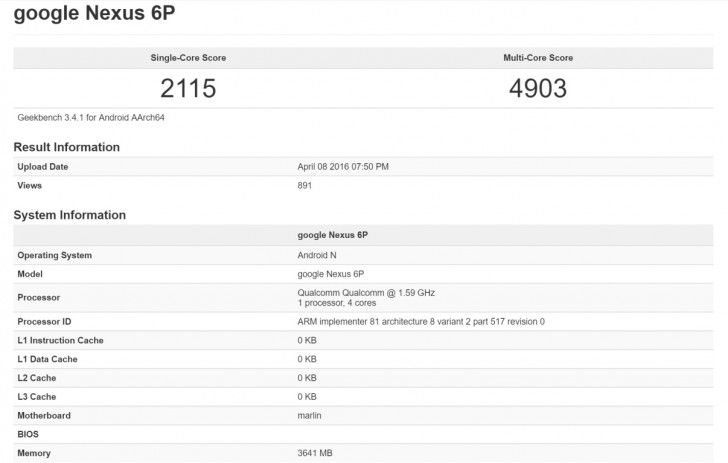 Namely, it's powered by Qualcomm's Snapdragon 820 chipset (not the 810 like the 2015 model), and it comes with 4GB of RAM (up from 3 on the existing Nexus 6P). The prototype that's been benchmarked was running Android N at the time, which makes perfect sense considering that Google has already released the first two developer previews for that version of its mobile OS.
It seems entirely plausible that Google will stick with the Nexus 6P moniker for this year's Nexus phablet, just changing the hardware and the company manufacturing it. So this might be an HTC-made product, as rumors have been saying for a while. On the other hand, perhaps Huawei and Google are simply working on a minor spec refresh for the existing Nexus 6P, changing the SoC used and the RAM amount. If this is the case, then the upgraded phone could be made official at Google I/O next month.
D
If this is true, man... marriage of the 820 SoC and pure android..... EPIC
D
Can't wait to buy a new 820 nexus phone. Hope Google will announce it next week. The factors that prevent me from buying 6P are that it uses 810(although some people say it won't have the heat problem), 3G RAM and the black stripe on the rear. Bu...
D
I have had enough with the SDcard problems with Google tightening security. My Samsung Galaxy S4, which has an SD card, using Lollipop 5.0.1 is constantly deleting apks that can move to my External SD card. This is why my next Smartphone will not hav...