The Google event brought the new Nexus 7 2. It's a 7" tablet running pure Android 4.3 and improves the screen and chipset over the first generation Nexus tablet. The base price is set at $230, a little higher than the $200 that the first Nexus 7 costs (both prices are for the respective 16GB model).
So, what do you get for the extra $30? A 1920 x 1200 screen with 320ppi pixel density (50% more than the first Nexus 7 and more than even the Nexus 10) for one. It's the highest resolution 7" display on a tablet. The screen also promises a 30% wider color gamut.
You also get the chipset from the Nexus 4 – Snapdragon S4 Pro with quad-core Krait processor at 1.5GHz, 2GB RAM and Adreno 320, a sizable update over the Tegra 3 chipset.
While the display size was kept the same, the new Nexus 7 is smaller. Google and Asus shaved off 1.8mm off the thickness, 2.8mm of the bezels on either sides and reduced the weight by 50g. Google kept well-liked the soft touch back.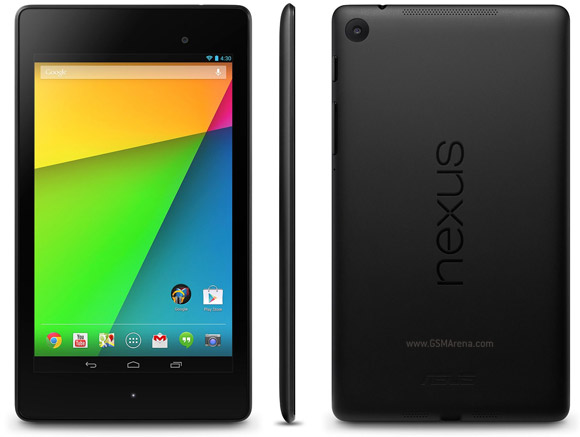 There's also a back-facing camera – a 5MP shooter that can also record 1080p video joins the 1.2MP front-facing camera of the first Nexus 7. Other changes include an LED notification light on the front and SlimPort, which means you can get HD video out of the microUSB port.
Other connectivity features are dual-band Wi-Fi a/b/g/n, Bluetooth 4.0 (Android 4.3 adds native support for 4.0 + LE) and NFC. Wireless charging is also supported.
Google announced the Wi-Fi and 4G LTE models of the Nexus 7 from the get go this time around. One device will be able to use 4G from AT&T, T-Mobile and Verizon, no different versions required.
For storage, there's 16GB for the base model, $230, and 32GB for $270. Those prices are for the Wi-Fi only model, the 4G LTE model comes in 32GB only and costs $350.
The Nexus 7 2 will be available starting Tuesday (July 30) through the Google Play store and a number of retailers including Best Buy, GameStop, Walmart, Staples, Amazon.com.
In the coming weeks, Google will expand availability for the Nexus 7 2 to Canada, the UK, Germany, France, Spain, Australia, Japan and South Korea.
A
Its not a phone but a tab :)
a
nexus line up don't have external microSD slot
w
is it too hard to add a microSD slot? really dont understand.