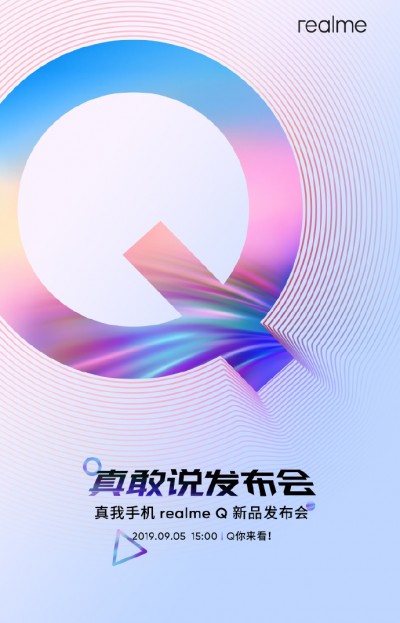 Realme is having an event in China to introduce its new Q series. The announcement was made on Weibo by the company CMO Xu Qi Chase, who said four new products will be announced. This might sound like four Realme Q smartphones, but in reality we expect the Realme 5, Realme 5 Pro, Realme XT and Realme Q on stage.
The post on Weibo does not say much about the specs of the phone. We should see another device with four cameras on the back, since the company's Weibo profile is all about the "four-cam era".
One assumption that could be made is a device with the same design on the back - vertical setup in the top left corner - but the selfie shooter is elevating from the middle. Another low ball guess is the same 48 MP lineup, but the selfie is 25 MP or 32 MP with more AI features. We've already seen Realme do something similar with the Realme U1.
We could also see the Realme Q as the first phone of the sub-brand with its own OS and not ColorOS, which could be based on Android 10 that was dubbed Android Q until last week. Realme is not one of the companies that keeps its upcoming features secret, so we expect to hear more in the following seven days leading to the event.
Oh really??? Like 1 to 3 phones per year from every company is not enough Too much E-Waste from phones.
R
Super nice 👏 I want Q1 Real me
L
Or OPPO Gsmarena calls OxygenOS skin or UI but for some reason keeps calling RealmeUI as new OS
ADVERTISEMENTS