New report claims Lenovo will out the P2 and the Motorola Moto M on November 8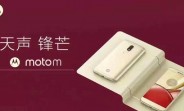 We already know the budget-friendly Motorola Moto M is in the works. A few helpful leaks in, we are also fairly well acquainted with what to expect in terms of specs and appearance. Now, in a new turn of events, it appears Lenovo might not even make us wait until December for the full-metal handset, as a new promotional material suggests a November 8 launch date instead.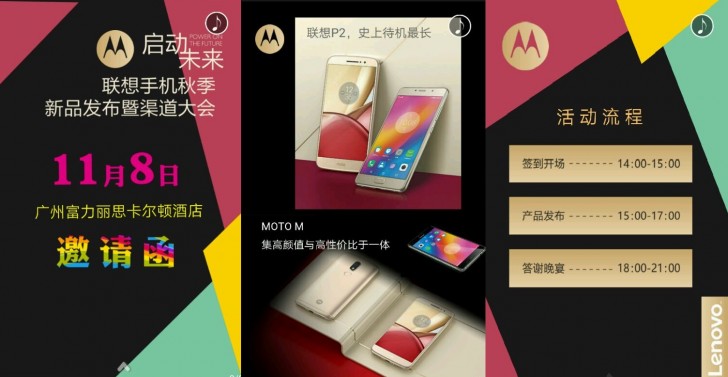 To sweeten the deal even further, the Moto M might not come along, but instead be accompanied by the Lenovo P2 that was showcased at this year's IFA conference.
Now, we can't really judge on the authenticity of the leak, so if you are anxiously waiting for either of the devices, you should still be prepared to wait another month or so. And if that is the case, we definitely understand where that excitement is coming from. Both handsets are shaping up to be pretty compelling mid-range offers.
One thing in particular seems to stand out in both their specs sheets - the Lenovo P2 is powered by the Snapdragon 625 and as per the freshest Moto M leaks, the latter will use the 14nm chipset as well. The exciting part here lies in the fact that this particular Qualcomm chip makes good use of its eight efficient Cortex-A53 cores, implemented on an equally efficient manufacturing process. This sort of implementation is still a rarity and has proven to be amazingly power efficient in other devices, like the Samsung Galaxy C7, leaving us with high hopes for the Moto M and Lenovo P2 and their hefty 5,100 mAh batteries.
As for other similarities between the two devices, both have FullHD 5.5-inch panels, although the one on the Lenovo is of the AMOLED variety, while the Moto M will likely stick with an LCD to keep costs down. RAM and storage options also look pretty close. Both devices will allegedly be offered in a 3GB plus 32GB and a 4GB plus 64GB option upon release, with the latter exclusive to China. Rumors also hint at a 128GB variant for the Moto M, although that seems a bit far-fetched.
In the camera department, the Lenovo P2 has a 13MP main Sony sensor with a dual LED flash to work with, along with a 5MP selfie one. Rumors claim the Moto M will offer a 16MP main shooter, plus 5MP or 8MP on the front. Both phones also have the convenience of a microSD slot and a fingerprint reader - on the back for the Moto and on the front for the Lenovo.
D
Yeah, 15k for 3GB & 16k for 4GB.
D
It was designed to have mods attached.
ADVERTISEMENTS