Samsung has started pushing out a new update (build number XXU1ARCC) to its new Galaxy S9/S9+ flagship smartphones. Germany was the first market to get it, but the roll out has now started in several more regions.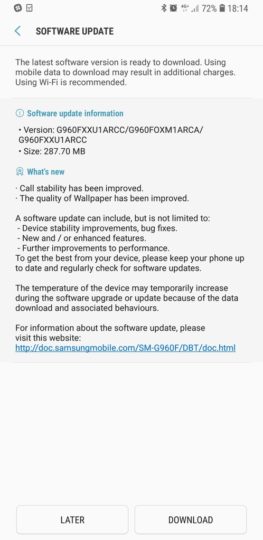 As for changes, it seems to be a minor update as it only includes some call stability-related and wallpaper quality-related improvements. Size is somewhere between 250 MB and 350 MB. Let us know what changes you observe after you install the update.
M
Same problem here.. 2nd samsung S9+ (they have replaced my handset once already) and the voice keeps dropping out for 5/6 seconds intermittently. Piece of shit phone and incompetent company. WHAT A DISAPPOINTMENT!!!!!!!!!
D
I am on my 3rd Samsung Galaxy S9 in Australia - All 3 x S9's of them have had silent patches during calls. The March 2018 firmware upgrades did not work - waiting to see if April 2018 firmware will work. Summary showing Firmware version so far: ...
D
same here my S9+ is constantly dropping calls . im talking on the phone and people say it just starts to go quiet and nothing for about 15 seconds and then back perfect for a while before it happens again . ive seen dozens of people report the same i...