The Sony Xperia Z1S leak-fest continues with some new shots and info coming from China. The diminutive flagship is shown running Android 4.3 Jelly Bean (14.2.A.0.205 firmware), which is presumably the software it will launch with.
Speaking of launch, according to the new info the phone will launch in the first quarter of next year (could be announced as soon as today) and will cost CNY 3,600 in China which translates to $590 / €440. For comparison, the full-sized Xperia Z1 costs CNY 3,820 ($630).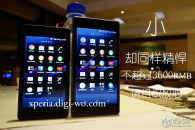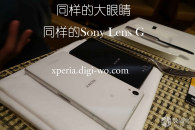 Sony Xperia Z1S • Z1S standing next to its big bro
Anyway, the price and launch target are unconfirmed, but aside from the smaller screen (4.3" 720p vs. 5" 1080p) and a smaller battery (2,300mAh vs. 3,000mAh), the Sony Xperia Z1S will have the same hardware as the big Z1. That includes the powerful Snapdragon 800 chipset, 20MP camera with Sony G Lens (which you can see in the photo) and the IP58 water-resistance certification.
By the way, those aren't the first shots of the two Xperia Z1s together.
Thanks for the tip, Anurag!
a
very very powerful phone my favourite is xperia z1s
J
I seriusly need this phone ASAP, great specs with a smaller factor is all I want. I'm using a Galaxy S4 now for 8 months and I'll never buy another 5" or bigger phone again. I even miss my old Galaxy Nexus when comparing to my S4 experience.