Amazon might be looking to add a new 8-inch tablet to its Kindle Fire-branded lineup soon. The new slate will intriguingly be mostly lower-end than the currently available Kindle Fire HD 8, so perhaps it's actually going to be a more affordable version of that.
Some of the new tablet's specs have been leaked because someone put a prototype through the paces of GFXBench. The device is identified as Amazon KFGIWI, as you can see. The only thing that's higher-end here than in the Kindle Fire HD 8 is the RAM amount, now 1.5GB compared to 1GB.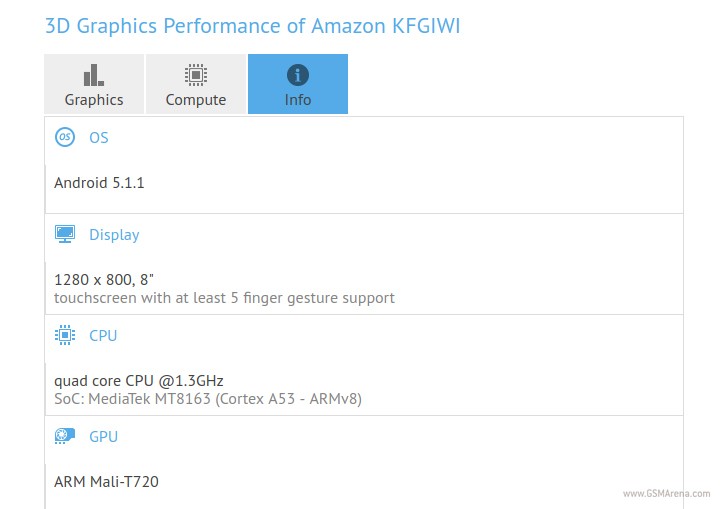 The new device has an 8-inch 1,280x800 touchscreen just like the Fire HD 8, but its processor is clocked at 1.3 GHz, 200 MHz below. The chipset powering things this time around is MediaTek's MT8163, which sports the Mali-T720 GPU and a quad-core Cortex-A53 CPU.
The new tablet has 8GB of storage, a 2 MP rear camera (compared to the 5 MP unit on the Fire HD 8), and a VGA selfie snapper (that's 720p on the Fire HD 8).
It runs Android 5.1.1 Lollipop, undoubtedly underneath Amazon's very own Fire OS fork. There's no telling when the new 8-inch device will launch, but with those specs it could be cheaper than the $149.99 Kindle Fire HD 8, even if just slightly.