Vertu, the high-priced exclusive range of Nokia, will offer soon a new line of mobiles under the name Constellation. Up until now Vertu has prided themselves with the Diamond series which is the most expensive one. The classic Signature line has some cheaper mobiles - at least they are not covered with diamonds. The last of the Vertu product lines is the Ascent. It is also the most affordable one.
The new Vertu Constellation series is going to include three new handsets that are going to be even more affordable, but still, all of them exclusive as it gets. The new series gets its name from the most successful post-war airplane of Lockheed - the Constellation. The designer of the mobiles, Frank Nuovo, even included the propeller symbol into the handsets' microphone aperture.
Although they would undoubtedly lack a camera, all the members of the trio would offer a music player, EDGE, GPRS, Bluetooth, and USB along with quad-band support and some business functions which are to assist the traveling businessman. The user interface used is the new Nokia S40 UI which has proven its reliability over a number of other Nokia phones. What is more, the 262K color TFT display is to be covered by scratch-proof sapphire crystal while as an option you could order the keypad to be made of fluorescent ceramics used on space shuttles.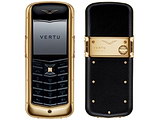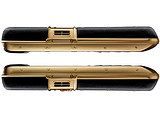 Vertu Constellation gold with black leather
But enough of that, let's return to the mobiles themselves. All of them have the same measures with the only difference being their weight and the material they are made of. The most luxurious one is undoubtedly going to be the 18 carat gold-plated one. The second and the third ones are made out of stainless steel with a different finish - the so called "polished steel" and "satin steel". The metallic part in all the three handsets will be combined with luxurious leather that allows for different color variations - for example even one in pink is available.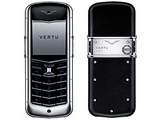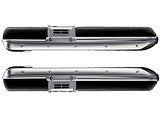 Vertu Constellation polished steel with black leather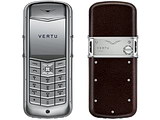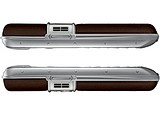 Vertu Constellation satin steel with dark-brown leather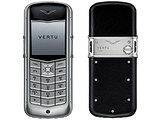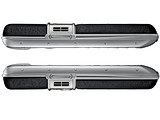 Vertu Constellation satin steel with black leather
The phones are expected to be officially announced in several weeks while their appearance on the market is said to be no sooner than October 2006. Up until now their price remains unknown.
M
Same phone is available at LuxMobiles. Quality is superb, prices are very affordable
m
when u have money then u will tell a diffrente story
T
Chinese version from same phone :)) http://www.youtube.com/watch?v=B--xfTm311g
ADVERTISEMENTS