Italian Windows Phone site Plaffo, have confirmed reports that a new update for Windows Phone has begun to roll out, starting with the LG Optimus 7 on Vodafone.
The update issues a number of improvements and more importantly bug fixes to Windows Phone, addressing the likes of the mysterious disappearing keyboard issue that has plagued users by hiding the on-screen keyboard in general use.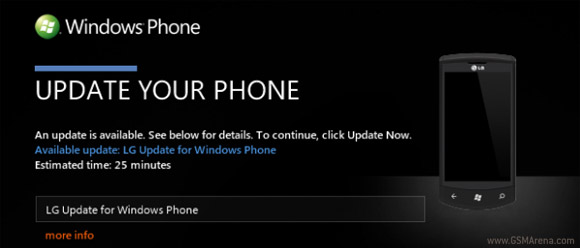 There are also more security centric fixes too, such as the location privacy issue that Microsoft said caused "unintended behavior" by sending excess location data relative to nearby cell towers and WiFi access points.
The update uses the version number to 7.10.8107.79 and the key points of the change log are as follows:
• Stops the on-screen keyboard disappearing when in use
• Provides a fix for Gmail sync issue
• Fixes location access issue. Following the upgrade, sending location information anonymously to Microsoft regarding nearby Wi-Fi access points and cell antennas is optional
•Revocation of certificates issued by DigiCert Sdn Bhd to solve a problem of encryption
• Fixes a problem with e-mail related to Microsoft Exchange Server 2003. When you reply to or forward an email, the original message is now included in the response
• Fixes an issue with voicemail notifications
We still don't have a rundown of the full update schedule for other devices and the various carriers, but keep checking back here and on your Windows Phone device to pick it up soon.
Win Rumours' Tom Warren does however confirm that despite the number of welcome fixes the update brings, the major SMS bug that can cripple the messaging hub from receiving SMS is still present, so with that we hope a resolution can be found soon.
Let us know if your Windows Phone has shown signs of available updates.
Y
Thx and you're right that Android's mostly for geeks who want to tinker with their phones. I've seen more than my share of android forums where people root their devices to do whatever. Guess I'll go with WP7. But does the limitations annoy ...
A
The ignorant one is you. Microsoft signed a deal with Nokia for them to make the WP flag ship phones So you would think the flag ship phone would get all updates first.
A
HD2 was windows mobile not windows phone. You had to go to the manufacture web site and look for your updates for windows mobile. It's no longer that way in windows phone. Don't compeer WM with WP it's a totally different OS from the ground up.
ADVERTISEMENTS