Tomorrow's Xiaomi event is going to bring us two new handsets, it seems. The Chinese smartphone maker itself has hinted at this through some of its teasers for the event, so that's pretty much certain. Just what those phones will be, however, has been a bit of a mystery.
For a long time we've heard rumors about the Mi 5 being unveiled tomorrow, but then Xiaomi went and flat out denied this through another teaser image (which you can see below). Furthermore, the company has hinted that we'll see the word "Note" in at least one of the things it's announcing in less than 24 hours.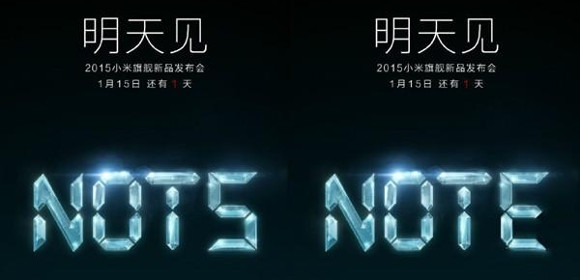 So what is that? New rumors talk about the device being called Xiaomi Note. This will be a higher-end offering than the Redmi Note, mind you, so it's basically going to mean the debut of a new line of handsets. Like its name implies, it will be a phablet.
According to a Chinese market analyst, the Xiaomi Note will have a bigger screen than the iPhone 6 Plus, but not bigger than 6 inches. So that means it will be somewhere in between 5.5" and 6", with the most likely size being 5.7", the same one employed by Samsung's Galaxy Note 4.
In terms of specs, the rumors say we should expect 1080p resolution on that screen, a Qualcomm Snapdragon 801 chipset, 3GB of RAM, and a 13 MP rear camera. These specs are pretty much identical to those of the smaller Mi 4, so the Note will serve as a bigger version of that. This means that the device that leaked as the Redmi Note 2 not long ago might actually be this Xiaomi Note, given its uncanny resemblance to the Mi 4.
The new Note will allegedly cost around CNY 4,000, which at the current exchange rates means approximately $645 or €547. This would make it the most expensive Xiaomi handset ever, and if this is true it would mark quite a departure from the company's usual focus on affordability.
A further leak claims that the other product Xiaomi will introduce tomorrow will sport a Qualcomm Snapdragon 810 chipset. It would be only the second ever announced phone to employ that particular SoC, after the LG G Flex 2 which was made official at CES.
Since Xiaomi has told us that it won't unveil the Mi 5 tomorrow, then this could end up being called Mi 4S. Perhaps it will have the same design as its predecessor, just packing more capable innards. We'll have to wait and see, but thankfully we're now mere hours away from the big event.
?
You must have missed the term 'allegedly'
D
This site rumors fail. Price out it is RMB 2299 only.
?
From affordable price to High End looks like thin margin is not good at all.