Around six months after launching the revamped Messenger app on mobile and the Web, Yahoo has announced that the application is now available on Windows and Mac as well. The announcement came in the form of a blog post from Yahoo's senior director of product management Austin Shoemaker.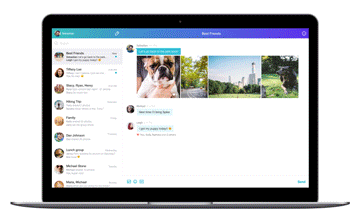 "Want to share photos from your latest vacation or simply spice up a message? Save precious time with our drag and drop feature to share multiple photos at once," Shoemaker said. "Then, spread the love by "liking" any posts or images that stand out to you. If you'd rather reply with a GIF, you can easily search and send GIFs to your heart's content. Pro tip: play GIF roulette and type /gif + any search term."
The application also features desktop notifications as well as the unsend button that you can use to take back a message, photo or GIF after it's sent. For those using the old version of the Yahoo Messenger desktop app, it's worth mentioning that your app will stop functioning on August 5.
c
New yahoo messenger app is quite good as compare to old one. It is simple to use. But sometimes user faces issue while using it on mac or windows. For this user can connect with yahoo support team and get solve all their yahoo app issues with the hel...
g
ugh... still the new one??? I deleted it when they updated... the new one is SO HORRIBLE.. was hoping they put the new one out of its misery and reloaded the old one.. oh well..
n
new version of yahoo messenger is worst thn old one as nwe version does not have video voice and photo sharing facility