New York City's Metropolitan Transit Authority (MTA) officially acknowledged the Galaxy Note7 debacle that has been circulating the news and tech world for the past couple of weeks or so. The MTA's official twitter page urges both customers and employees to cease using their Galaxy Note7's due to the potential of batteries igniting.
MTA customers are urged not to use or charge their #Samsung Galaxy Note 7 mobile device on trains and buses.

— MTA (@MTA) September 13, 2016
MTA customers should turn off #Samsung Galaxy Note 7 before entering station or boarding bus due to concerns device's battery can ignite.

— MTA (@MTA) September 13, 2016
The MTA was also quick to state that there have not been any reports of Note7's poofing up on the transit system's property.
No reported cases of #GalaxyNote7 igniting on MTA property, but customers and employees should avoid using them.

— MTA (@MTA) September 13, 2016
Naturally, the MTA is concerned about the recalled device's tendency to go up in smoke as more reports of exploding Note7's continue to circulate the news like wildfire (pun intended). The MTA moves 5.6 million people on an average weekday, so safety is definitely a concern.
Believe it or not, this isn't the first time a product was banned from the New York City's public transit system for risk of ignition. Toward the beginning of this year, the MTA completely banned the possession, riding, or transporting of hoverboards anywhere on MTA property. Which is a more severe ban than the current Note7 advisory.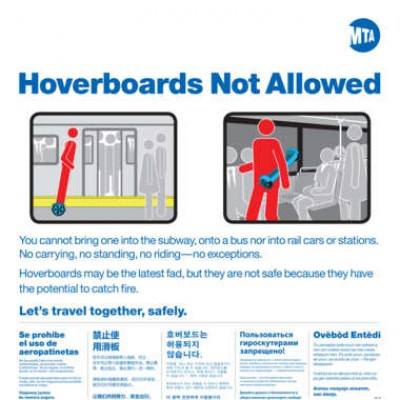 Again, the Note7 isn't "banned" from the trains; call it a "soft ban" if you will. Users are only "urged not to use or charge" them while onboard any trains or busses.
?
They are giving people loaner devices for the time until the new units arrive
?
Above and beyond to inform and protect their citizens? Such a travesty! /s They aren't doing anything different from what Samsung has already said. Stop being so blind and biased.
c
your statement cant help shamesung dude, im sorry, theyre doomed by this time already.