New York City Transit to start accepting NFC payments over the next few years
The MTA (Metropolitan Transit Authority) Committee has announced a new contract for the New York City Transit system to receive a technological update. This $573 million deal would hire the same company who developed the London Underground and London Commute payment system to adopt a similar payment system in 500 subway turnstiles and 600 city busses starting late-2018.
The new payment system would allow riders to pay the flat-rate fare with a contactless card, or NFC mobile payment service like Apple Pay, Android Pay or Samsung Pay. The full rollout of the new payment system is slated to be completed in 2020.
Riders may continue to use the current MetroCard (which is flexible and uses a magnetic strip), until 2023 – when the MTA plans to phase out the MetroCard entirely. A new contactless (NFC) pre-paid card would replace the MetroCard. The new system would also work with the Long-Island Railroad and Metro North Commuter train lines, which are also part of the MTA.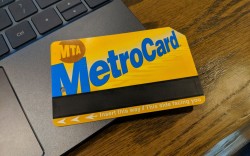 The MetroCard
Paying as you go would be a welcome change to the way the MTA takes payments. You can use exact change on busses or a pre-paid MetroCard on busses and trains. Commuter train fares are calculated by distance.
Check out the full report at The New York Times by clicking on the 'Source' link below..
D
Man I still remember when we used to use tokens in NYC buses and trains lol
R
NY has Hybrid buses but not all of them. NJ Transit is not a part of NY. So, they don't have one unified card you can use for both.