A new player is apparently joining the market with the announcement of an upcoming smartphone, named i8. The German company sent out a press release describing the rather interesting device as a "high-end hardware for a mid-ranged price".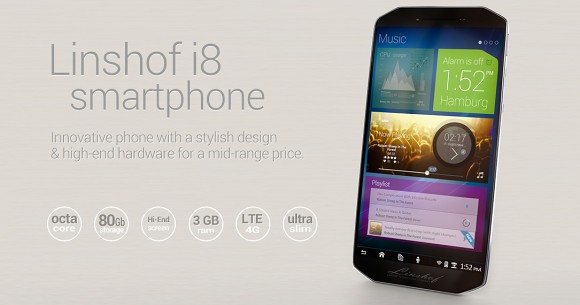 The first impression we inevitable get from looking at the official renderings is that the device is quite oddly shaped. The body, however appears quite slick and nicely designed and it's said to feature brushed aluminum in either black or coffee color. But without a physical unit not much can be judged about material and production quality yet.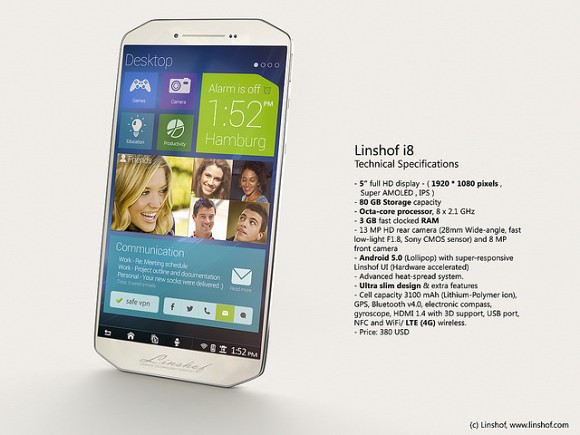 The cited specifications are quite thorough, with the exception of no specific processor information. The smartphone will feature a 5" 1920x1080 pixel Super AMOLED display and 80GB of onboard storage, which is quite spacious. At the core there will be an octa-core processor clocked at 2.1GHz.
This is however quite unspecific and could possibly be an implementation of a Qualcomm Snapdragon 810, which seems likely given the Samsung-like Super AMOLED display, or perhaps a variation of a MediaTek MT6795, but this is all speculation at this point. Other notable feature on the device include 3GB of RAM, a 13 MP HD rear camera (28mm Wide-angle, fast low-light F1.8, Sony CMOS sensor) and 8 MP front camera and a 3100mAh battery.
A lot of other bells and whistles are included in the press release and the i8 will supposedly come equipped with GPS, Bluetooth v4.0, electronic compass, gyroscope, HDMI 1.4 with 3D support, USB port, NFC and WiFi/ LTE (4G) wireless.
Linshof also states, that the device will be running Android 5.0 Lollipop with an accelerated Linshof UI. The company stresses quite a lot on the benefits of this software environment, boasting things like: "No added trialware. No in-phone advertisements—the clean and lean system has been carefully tweaked for this specific hardware." Linshof UI will supposedly also feature an optional tile-based layout, as seen in the renditions of the i8.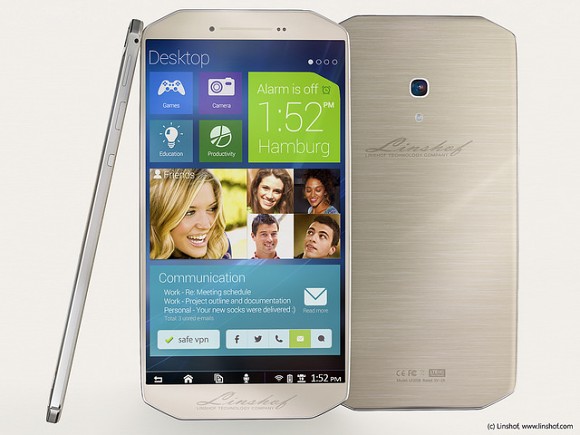 The press release announces a price tag of precisely $380 and the Linshof website features a release date of Q1 2015.
All of this does sound quite interesting, especially given the different design concept, but it should definitely be taken with a grain of salt.
Linshof is largely unheard of and has little to none online presence with their Facebook page, for example, existing since only November 19. It also appears rather odd, that their website features an equally designed and almost identically specked 10" tablet device, which is mentioned nowhere in the press release. For the time being we will just have to wait and see if this turns into more than a mere Photoshop exercise and the company actually releases its product.
Source
D
They will definitely in profit if they launch phone . So many people gone mad about these phone . Hope in future they countinue this project....
r
how to find this at Malaysia
r
is it available in bangladesh?
ADVERTISEMENTS